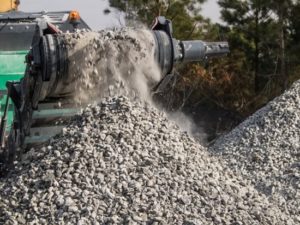 Recycled concrete is available for purchase at the rates listed below:
1.5″ crushed concrete: $15.50/ton
1.5″ screenings: $7.00/ton
Beginning in Summer 2022, we will be accepting clean loads of broken concrete at our Ankeny location, free of charge. Unfortunately we cannot accept wood, tile, dirt, or other debris. Recycling concrete offers many benefits to both your budget and the environment. Landfill costs for construction-related debris continue to rise, but recycling offers considerable savings as well as saving energy that would otherwise be used to procure new aggregates and keeps unnecessary waste out of landfills.